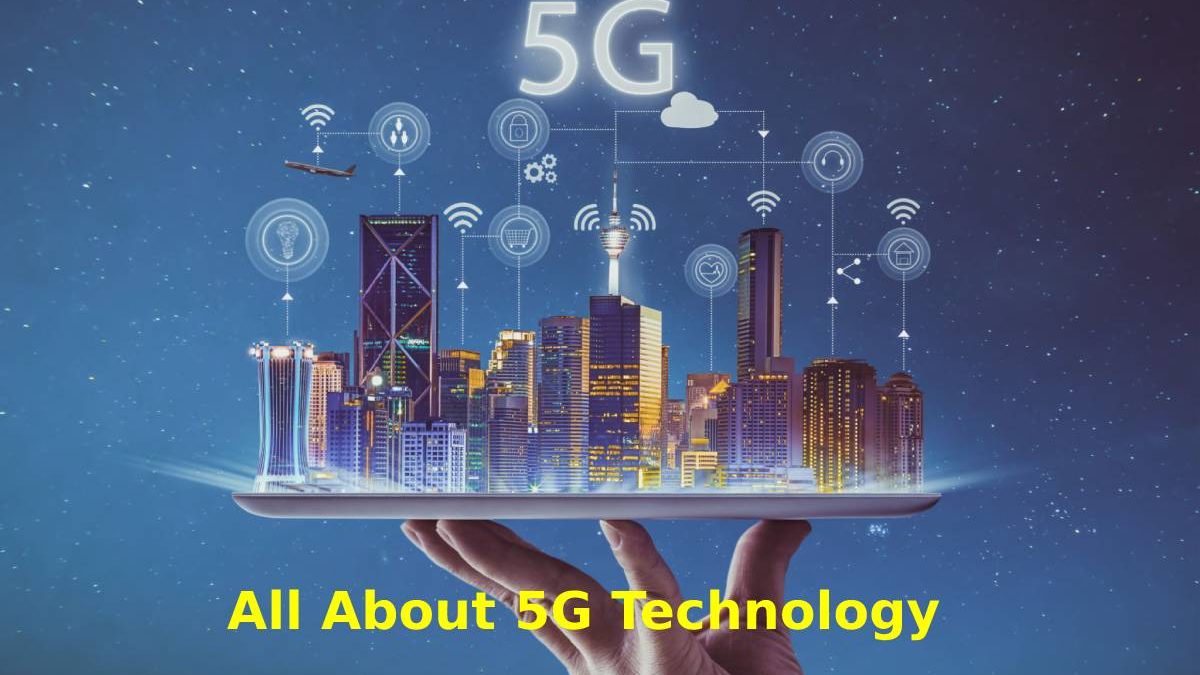 Introduction – 5G Technology
5G Technology The next generation of telecommunications network's fifth generation or 5G technology, started to hit the market at the end of 2018 and will continue to expand worldwide.
Beyond improving speed, 5G is expected to unleash a massive Internet of Things ( IoT ) ecosystem where networks can help the communication needs of billions of connected devices with the right trade-offs between speed, latency, and cost.
Eight Specific Requirements Drive 5G Technology:
Up to 10Gbps data rate – > 10 to 100 times better than 4G and 4.5G networks
1-millisecond latency
1,000 times faster broadband per unit area
Up to 100 more connected devices per unit area (compared to 4G LTE networks)
999% Availability
100% coverage
90% reduction in grid power consumption
Up to 10 years of battery life
What are the Real Use Cases of 5G? 5G Technology
Each new generation wireless network comes with a new set of new uses.
The upcoming 5G will be no exception and will focus on IoT (Internet of Things) and critical communications applications.
In terms of the plan, we can mention the following use cases over time:
Fixed wireless access (from 2018-2019 onwards)
Enhanced Mobile Broadband with 4G support (from 2019-2020-2021)
Massive M2M / IoT (from 2021-2022)
Critical ultra-low latency IoT communications (2024 to 2025)
Some key applications like self-driving cars require very aggressive latency (fast response time) while not requiring fast data speeds.
On the other hand, enterprise-based cloud services with big data analytics will require speed improvements rather than latency improvement.
When Will 5G Arrive? – 5G Technology
Where is 5G technology in deployment and standardization, and how long will this take?
ITU-R launched "IMT for 2020 and beyond" in 2012, setting the stage for 5G.
Japan and Korea started working on 5G requirements in 2013.
NTT Docomo conducted the first 5G experimental trials in 2014.
Samsung, Huawei, and also Ericsson began prototype development in 2013.
South Korea's SK Telecom demonstrated 5G in 2018 at the Pyeongchang Winter Olympics.
Ericsson and TeliaSonera made commercial services available in Stockholm and Tallinn in 2018.
North America 5G is available in some places in 2019. However, it won't take off in most areas until 2020.
Deutsche Telekom started 5G in Berlin, Darmstadt, Munich, Bonn and Cologne in September 2019.
In the UK, many cities will see 5G in 2019 and more in 2020. In addition, EE, Vodaphone, and O2 have been actively rolling out 5G since mid-2019.
India targets 2020 for 5G launch
Japan's goal is to launch 5G for the 2020 Tokyo Summer Olympics.
China Unicom has established 5G in some locations in 2019. GMSA expects 460 million 5G connections in China by 2025.
How Fast will 5G be?
The projected adoption rate for 5G differs dramatically from all previous generation networks (3G, 4G): while the previous technology was driven by mobile internet usage and the availability of popular apps,  5G is expected to be focused mainly on new uses of IoT, such as connected and autonomous cars, for example.
According to an Ericsson report from June 2019, 5G will reach 45% population analysis and also 1.9 billion contributions by 2024, making it the firmest generation to be deployed globally.
What are the Implications of 5G for Mobile Operators?
5G is still a cellular broadband technology and is a network of networks. Therefore, the experience and expertise of mobile network operators in the building and operating networks will be critical to the success of 5G.So, beyond providing network services, MNOs will remain able to develop and use new IoT services.
Rolling out 5G networks while keeping 3G and 4G networks operational will likely trigger a new challenge for MNOs regarding the capacity of frequencies in the spectrum (mainly if the anticipated massive volume in IoT occurs).
Mobile network operators will then need to operate a new spectrum in the 6 to 300 GHz range, which means massive investments in network infrastructure. In addition, to reach the 1ms latency target, 5G networks imply connectivity for the base station using optical fibers.
On the cost-saving side, 5G networks are planned to be capable of supporting virtual networks such as low-throughput, low-throughput networks (LPLT) for low-cost IoT. Unlike today, where LORA networks address that need separately from 4G.
What does 5G Mean for Consumers?
5G for consumers means faster mobile internet and mainly internet connectivity in many more things than you see today also the car and the home are two examples of the great IoT revolution, supported by 5G networks. Samsung and other Android OEMs plan to introduce the first 5G smartphones in 2019.
Will 5G Technology be Safe?
Today's 4G networks use the USIM application to perform strong mutual authentication between the user and their connected device and the networks. The entity that hosts the USIM application can be a removable SIM card or an embedded UICC chip.
This solid mutual authentication is crucial to enable trusted services. Today's security solutions are already a combination of security at the edge (device) and also security at the core (network).
Various security frameworks may coexist in the future, and 5G is likely to reuse existing solutions used today for 4G networks and also the cloud (SE, HSM, certification, over-the-air provisioning, and KMS).
Conclusion
In telecommunications, 5G is the fifth-generation broadband cellular network technology standard released by mobile phone companies in 2019. The planned successor to 4G networks provides connectivity for most mobile phones today.
Helpful Resources:
What is Video Marketing? – Strategy, Advantages, and More 
iPhone 11 Purple – Introduction, Its Best, Its Features And More
Grey And Black Tech Fleece – Introduction, Elements, And Instructions
Set Alarm for 1:00 P.M – Functions, Details, And Information – 2022
Convert 11.5 Inches to Centimeters – About, Formula, Information – 2022