What is Mobile Marketing?
Mobile  Marketing is a set of online marketing actions and techniques aimed at mobile devices. This new variant of marketing is given by the success of mobile telephony, the ease of internet access it offers, and the remarkable ability to attract customers and retain them.
We all go with a mobile in hand or use a tablet often. Therefore, these media offer great advertising potential to advertisers to reach their consumers. The target of the brands has been mobilized, and we must look for it wherever it is.
Online marketing strategies have had to be redefined and thought of in a  mobile format to continue connecting with mobile consumers and obtain good results in the final conversion, both in eCommerce and the actual store.
Also Read: What is the Bitcoin ETF? Everything you Need to Know About it
Mobile Marketing in Data
In the latest edition of the  Mobile Marketing study published by IAB Spain, fascinating figures are offered on the state of mobile marketing in Spain.
5 million people between 16 and 65 use mobile phones in Spain (94%), most smartphones.
Smartphones are use for an average of 2 hours and 34 minutes per day, approximately twice as much as tablets. It stands out among women and younger, from 16 to 30 years old.
The most prominent apps are WhatsApp and Facebook (smartphones) and Facebook and games on tablets.
34% of consumers use their mobile regularly while watching TV (multiscreen)—18% with a tablet.
A third of users perceive that the emails they receive are not adapt to mobile phones, meaning that 31% do not open them on another device.
9 out of 10 interviewees have used their smartphones occasionally in the purchase process.
41% of people have made purchases from their mobile. The most purchased categories are fashion, leisure, travel, and electronics.
What stops you from buying online? 61% prefer a larger screen, and 33% due to a lack of confidence.
Benefits of Mobile Marketing Campaigns
Before delving into the different examples of mobile marketing, it is essential to know a little more about this widely used strategy. Knowing what are the aspects in which it can benefit you will help you better understand its usefulness:
It allows you to reach a particular audience and establish and maintain direct communication with them. You will already have clear who you will address and what interests them.
The messages are receive in real time since it is common for people always to be attentive to notifications on their mobile phones. They are devices that people take with them anywhere.
It generates more excellent proximity since consumers feel more confident with smartphones. It, in turn, produces the same effect when receiving campaigns.
The customer loyalty process is much more accessible through mobile marketing campaigns. And to a large extent, this is because mobile devices are part of personal life.
You do not require significant investment; you can promote mobile campaigns at lower prices than other traditional promotion systems. And this is thanks to the technologies that allow a new way of advertising.
It facilitates the storage of customer data; keep in mind that telephone numbers are information people do not usually change very lightly.
Mobile marketing campaigns can generate a higher response rate than other online marketing actions.
It allows easy analysis of the results since you can track the campaign to evaluate its effectiveness. And you can rely on many tools that will speed up the process.
Best Examples of Mobile Marketing
Assuredly now that you know all the benefits you can get, you are more excited about implementing this strategy. But to achieve them, you need to do a good job, and these examples of mobile marketing can be of great help:
Coca-Cola – Mobile Ad Case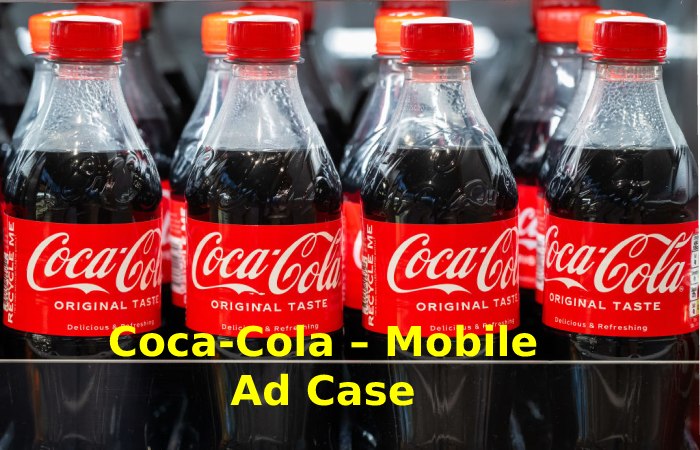 The famous Coca-Cola soft drink brand cannot be left out in advertising campaigns. So, he devised a mobile marketing strategy through a video that initially generated empathy.
But what was this campaign about? First, the brand developed a "Coca-Cola Mobile Ad Case" application, allowing users to send a free drink anywhere in the world. The reward consisted of a message or video as a response from the person who received the refreshing drink.
Also Read: Blockchain can be Hacked: In Some Ways it can be done
McDonald's – Fry Defender
Continuing with prominent brands, but this time fast food, you have the McDonald's mobile marketing campaign before your eyes. In this case, they created a simple strategy, but at the same time fun, which is based on the development of the "McDonald's and its 'Fry Defender' app.
This application is responsible for monitoring those people who feel tempted to take a delicious potato. But how does it work? It's simple: the user only has to leave their smartphone in the tray, and the app will notify them.
Conclusion
Mobile Marketing is a digital marketing strategy for promoting products and services through mobile devices. The rise of this technique has grown exponentially due to the excellent penetration that mobile telephony has reached in society.
Also Read: What is the Metaverse? – Everything you Need to Know