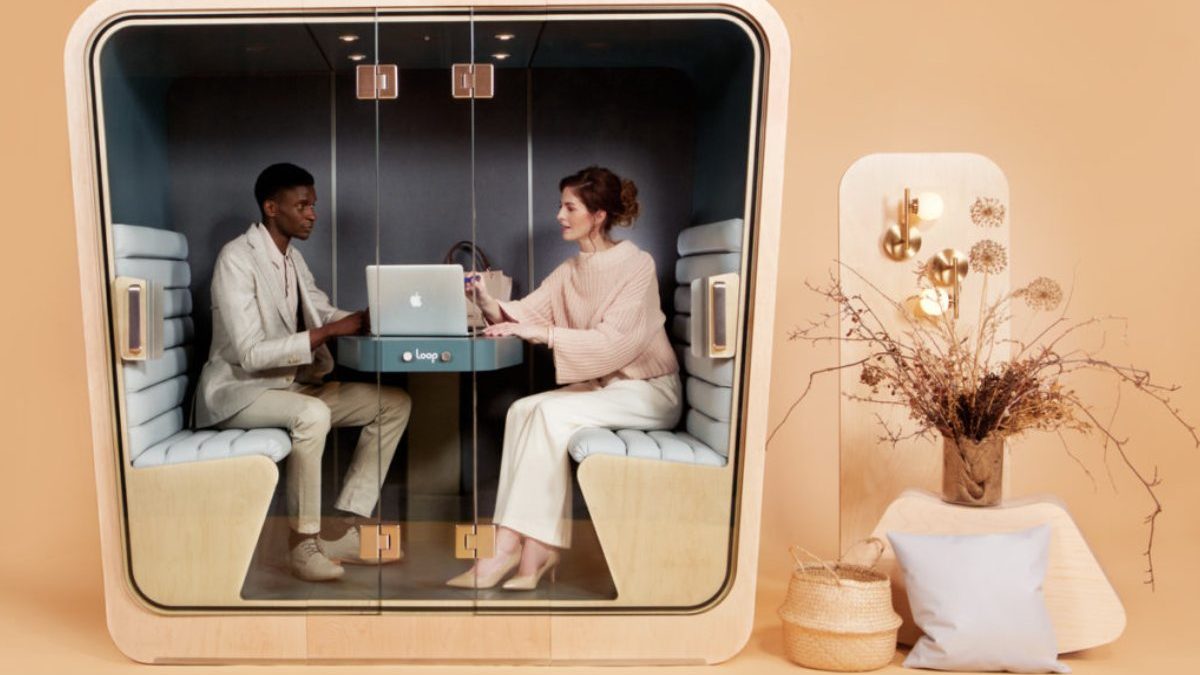 Introduction – Best Meeting Pods
Best Meeting Pods: Mobile phones and meeting pod booths are increasingly popular in offices and some public places, allowing users to work on the go. The flexible office and remote work symbolize the new normal of work. It transforms traditional spaces with more shared office areas and smaller meeting and concentration areas. Using workstations or cabins offers employees or users more comfort and privacy in a soundproof environment.
Meeting pods and phone booths allow companies to save on office design and construction and be more flexible in office renovations as they are straightforward to install or remove depending on the needs of their employees. Discover our selection of the best phone booths and meeting modules to build your flexible office. Then, wait until the end of the article to see what options FLYDESK has to offer for your pod needs.
Best Call Booths & Meeting Pods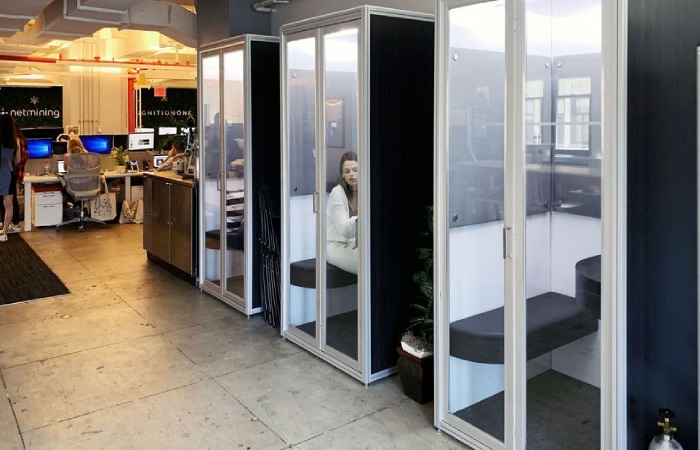 1. Framery
Framery is the world's leading supplier of soundproof and connected capsules with the most advanced technology and comfort. In addition, the Framery offers telephone booths and private and quiet meeting cabins. It will ensure that your employees are more productive and happier with these sound-absorbing panels. It's easier to focus on your tasks when you're not distracted.
The Framery offers different silent working modules. Depending on interior design and location, it ranges from $8,000 to $17,000. These modules can vary from one person for Framery One to four people for Framery Q. If you need a meeting room for a larger group, you can choose Framery 2Q instead.
2. ROOM
They offer various specially designed room layouts. It enables companies to use affordable, flexible, and sustainable alternatives to the traditional workplace. For example, you can choose between the phone booth, focus room, meeting room, and open meeting room.
The ROOM offers plug-and-play installation, and you can add it to the available space. It's built to last, making it futuristic. It starts at $3,995 for the phone booth and varies depending on the type of workspace and layout you want to adopt. For example, the bedroom phone booth features a dual-fan ventilation system, a motion-activated light sensor, third-party lab-tested soundproofing, and an easy assembly feature.
3. Poppin Meeting Pod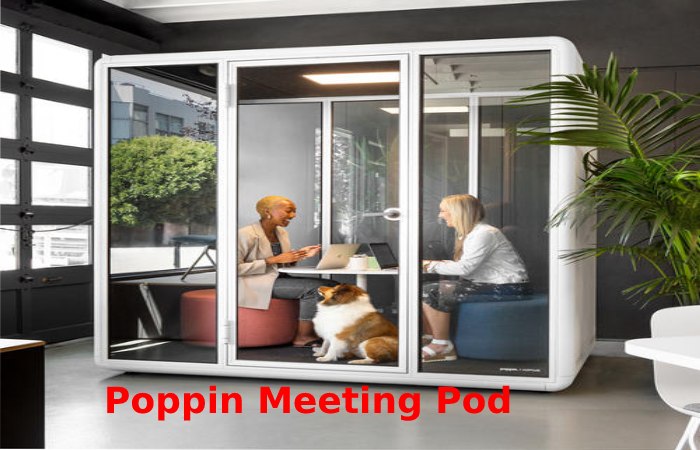 Another good player in the phone booth market with Poppin. Your Poppin Pod includes outlets to ensure you can use it to charge your device or has a built-in power outlet. It starts at $4,999 for a phone booth, and you choose whether you want the Poppin Pod to sit or stand.
It lets you get a busy solo for the Phone Booth or head to the Poppin Pod Kolo to use as a meeting room.  Starts in a price range of $9,999 to $14,799. So it's easy to add more space to your office without distracting yourself with construction work.
4. TalkBox – Best Meeting Pods
One of the phone booths with the best privacy you can get for your employees with sanitary facilities, beneficial after the Covid 2020 crisis. Indeed, their booths are equipped with UVC germicidal lighting to protect your team. In addition, you can have visual and audio privacy supports for monitors, sliding doors, and more!
TalkBox still includes USB and charging stations for power, ventilation, and standard lighting. However, compared to the previous phone booth workspace, it's packed with features. You can also ensure that it is well-designed and spacious to make your employees feel comfortable. Additional features such as a turnkey solution, custom graphic packaging, reinforced privacy glass, Hepa air filtration, and monitor or laptop mounts are available to maximize your booth experience.
5. Zen support – Best Meeting Pods
Zenbooth offers a complete set of phone booths for the workplace. The Zenbooth Solo costs $3,795, while the Zenbooth Duo costs $7,995. However, if you need meeting space, you can opt for the Zen booth Quad, which seats up to six people and costs $13,995.
It's soundproof to keep your conversations private. The phone booth allows you to adjust the transaction amount. You can also stay calm also contributes to your comfort. It has reflectors and is spacious; you can return it within 30 days if you are not satisfy. You can take advantage of its features like the built-in dimmable LED lighting, the adjustable height desk, and the ventilate ventilation system.
Conclusion
This often means they can be placed nearer to work areas and also providing a convenient multipurpose space for impromptu meetings or quiet reflection. And they offer a new environment of their own: an oasis of calm but not isolated from the hustle and bustle of the office.
Helpful Resources:
 Which is the Best SEO Plugin For Word Press?
Why Create Educational Mobile Applications?
What is the Bitcoin ETF? Everything you Need to Know About it
What is Content Marketing? – Important, Types, and More
Voromotors – About, Achievements, Review, Experienced, And More
Grey And Black Tech Fleece – Introduction, Elements, And Instructions